HOW IT WORKS:
1. Use the Buy Gift Certificate button to purchase your gift certificate through Paypal. You will be directed to their gift certificate page where you will enter in all the variables like the dollar amount of the gift from a pull down menu, the recipient, etc. (see sample below)
2. You can have Paypal email it to your friend, or opt to print it out and give it in person instead.
3. Then your friend can go to the
BaxaArt.com
Buried Treasure Store , or anywhere else on the site, and make purchases, including original artwork. Then they buy items and apply the gift certificate Redemption Code (scroll down for sample gift certificate) in the shopping cart during check out and the dollar amount will be deducted. Gift Certificate is only good for online purchases.
3. Email me if you have any questions
NOTE: It appears you can't buy a gift certificate and other items at the same time in the same shopping cart, so order your gift certificate separately, then shop for other BaxaArt items.

Paypal Gift Certificate screen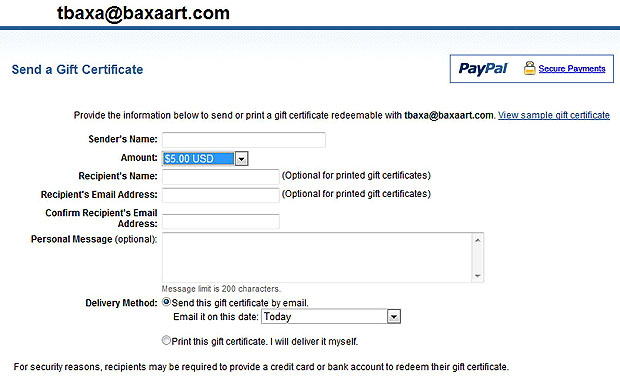 Sample of the Gift Certificate you can email or print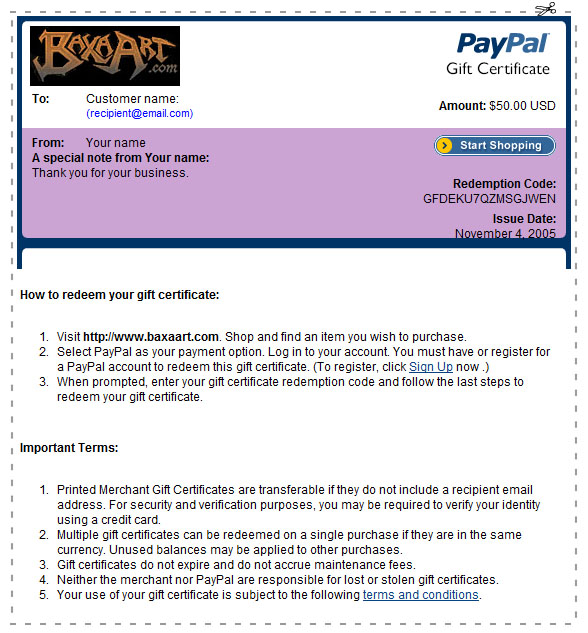 Paypal's Gift Certificate terms and conditions